Autism Society of Northwestern Pennsylvania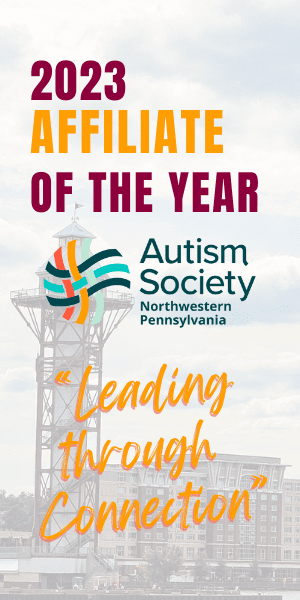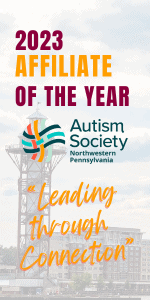 We create connections, empowering everyone in the Autism community with the resources needed to live fully.
For over 25 years, the Autism Society NWPA has provided support for individuals and families living with an autism spectrum disorder in Erie, Crawford, Venango, and Mercer Counties.
As a local organization, Autism Society NWPA provides individuals and families with support, referrals, mentors, education, and most importantly a community of understanding. We are continuing to make efforts to increase our support across the lifespan for individuals and families living with an autism spectrum disorder.
We are creating a world where everyone in the Autism community is connected to the support they need, when they need it.
Leadership Service
Board & Committee Leadership Opportunities
Volunteers are an invaluable part of our team.  Volunteers increase the quality of services and programming that we are able to provide.  By connecting our volunteers' skills with our community needs, we will ensure we can continue to provide essential support to individuals and families living with an autism spectrum disorder.
Board of Directors Opportunity ~ Autism Society desires individuals who reflect diversity including, but not limited to, age, gender, sexual orientation, geography, economic status, disability, and ethnicity.  Serving on the board is a rewarding experience and an opportunity for personal and professional growth.
Board applications will be kept confidential and on file at the Autism Society NWPA office. Interested in applying:
Barb
"Working on the board is rewarding because we are able to transform ideas for meeting our members' needs into actions by planning and funding programs."
John
"As a board member of the Autism Society NWPA, seeing the kids and young adults that benefit from our programs and services is all the reward I could ever ask for. Seeing the parents and caregivers relieved to have a place where their children are welcomed, respected, and cared for is the icing on the cake!"
Stella
"When a person very dear to you is on the Autism spectrum, you understand more about the gifts they bring to the world, but also you know more about the challenges they face. I volunteer on the board for Autism Society Northwestern Pennsylvania because it is important to me that all of the children and families that need services in our community have those programs and services available to them. It's one of the most rewarding experiences of my life and I'm proud to be a part of an organization that is making a difference in the lives of our clients and families."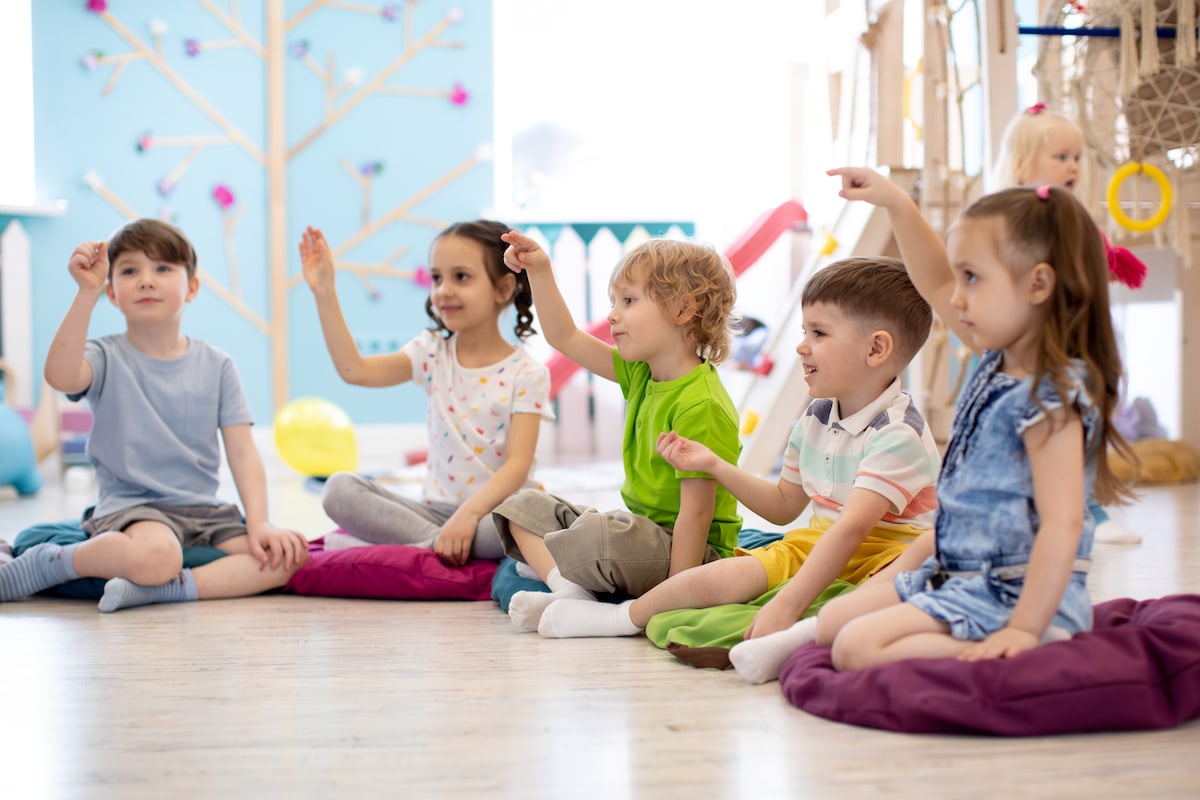 About Us
Families recognize us as their trusted resource for therapies, education, and assistance. Families have few options for help. We provide access to the best information and resources available as well as entry into a kindhearted community network of parents, professionals, and educators throughout our service area.
Autism Society Northwestern Pennsylvania is a 501(c)3 non-profit organization
Please get in touch with the office (814) 455-3540 to view a copy of our Form 990
Events
Autism Society NWPA offers monthly FAMILY sensory and social opportunities for families to get together. The monthly outings are designed to develop: community awareness and interaction through structured community based experiences; and develop and maintain recreation and leisure skills. The outings are opened to all families living with an autism spectrum disorder.
OVR 101: Youth & Adult Services, Sign-up, and Q & A
SAVE THE DATE – OVR 101: Q&A and Streamline service sign-up.
Thursday, November 30, 2023
Join us for an informative evening to discover OVR's Youth and Adult Services (Age 14 & up). Meet OVR staff, supervisors, and administrator on-site for Q&A and intake applications. Streamline service sign-up and enjoy appetizers with us! Perfect for individuals and families. Chances to win door prizes!!
LIMITED SEATING! REGISTER TODAY!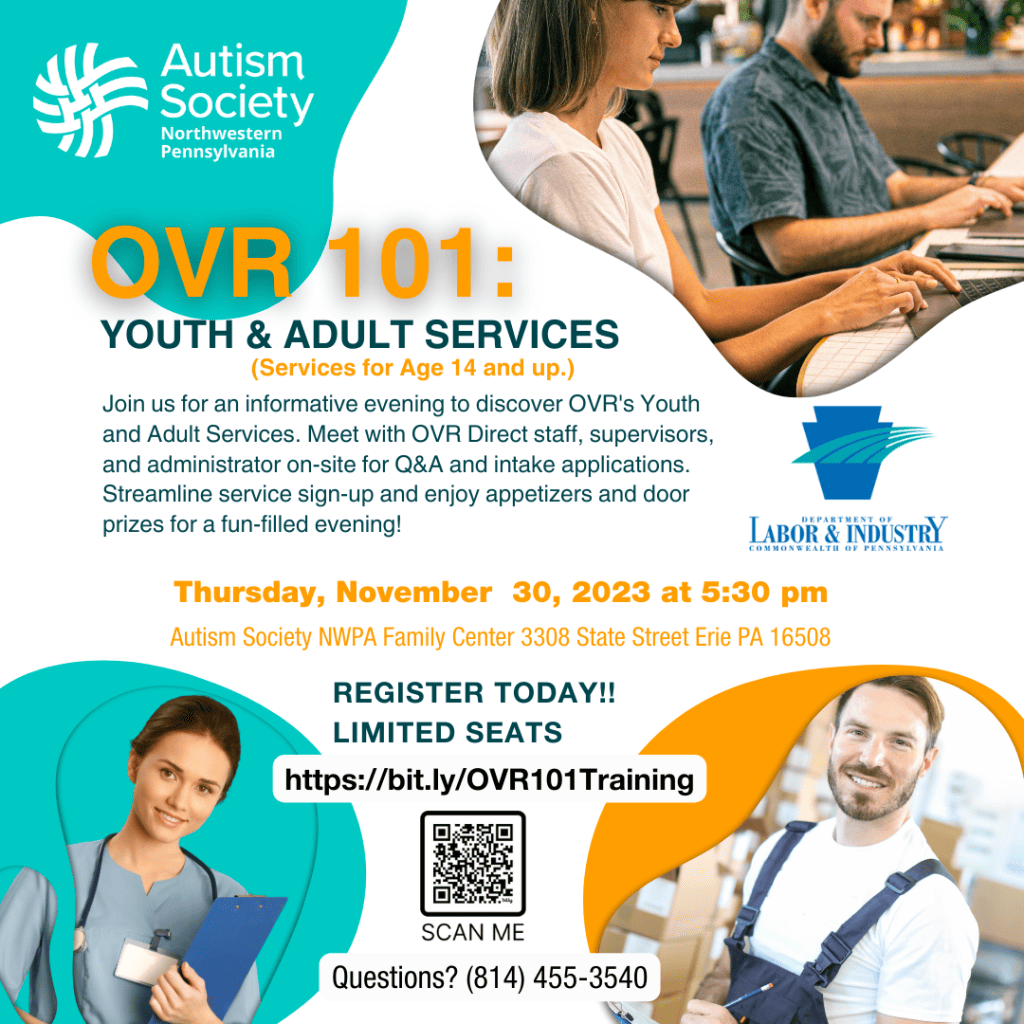 A (+) icon, next to an event's date, indicates that the event spans multiple dates. Click "Read more" on the event to view details about the specific dates for the event.