Dyslexia and Grant Funding 101
Event
Wednesday, October 25, 2023
6:00pm – 8:00pm
Autism Society NWPA Family Center – 3308 State Street Erie PA 16508
FREE
Community Educational Seminar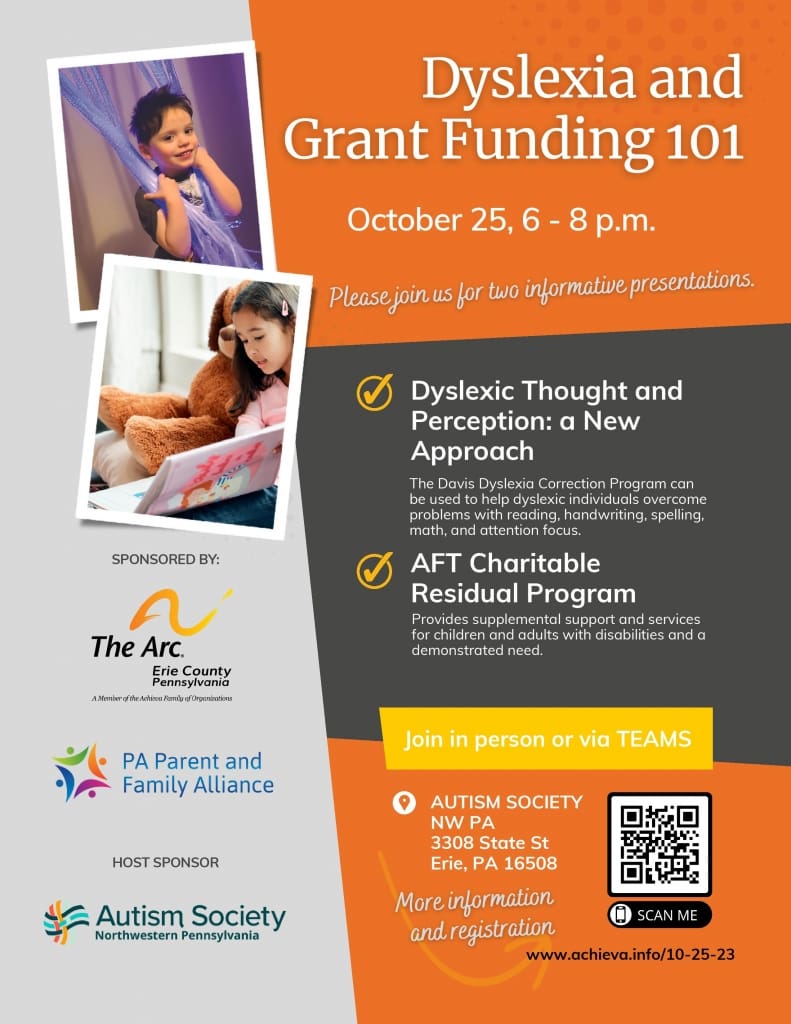 Please join us for two informative presentations.
This is a hybrid event. Register today to join in person or via Teams. Light refreshments will be served.
Dyslexic Thought and Perception: a New Approach
Marcia Maust, licensed Davis® Dyslexia Correction Facilitator and Supervisor-Specialist, from Berlin, Pennsylvania, will provide an informative presentation on the thinking style of the dyslexic learner and how that perceptual talent can lead to the development of a learning disability.  She will explain how the Davis Dyslexia Correction Program can be used to help dyslexic individuals overcome problems with reading, handwriting, spelling, math, and attention focus.
AFT Charitable Residual Program
Some individuals and families lack the resources to access critical special needs support. Achieva Family Trust's Charitable Residual Program provides supplemental support and services for children and adults with disabilities and a demonstrated need. Applicants need to reside in the state of Pennsylvania to be eligible for the program and have an ID, Mental Health or physical disability.

Sponsored by:
The Arc Erie County
PA Parent and Family Alliance

Host sponsor:
Autism Society NW PA
Request A Parent Resource Kit