Movie Night at UPMC Park & Picnic | LUCA
Event
Saturday, August 13, 2022
7:00PM – 10:00PM
UPMC Ball Park – 110 E 10th Street Erie, PA 16509
The Movie & Picnic ticket is $7 for AS members and $11 for Non-Member / Guest. The Movie Only ticket is $3 for AS members and $5 for Non-Member / Guests.
Family & Social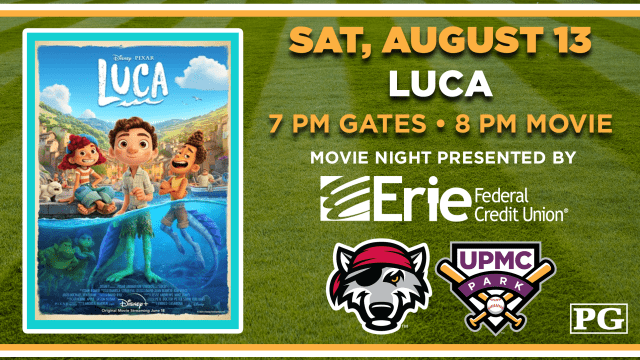 Movie Nights at UPMC Park are back and this year we're having our annual summer picnic before the movie!  Our picnic will include a hot dog, chips, and a soft drink or bottled water. Desserts will be provided by the Recreation and Family Support Committee. The picnic begins at 7:15 PM and the movie will start at 8:00 PM.
The Movie & Picnic ticket is $7 for AS Members and $11 for Non-Member / Guest. The Movie Only ticket is $3 for AS Members and $5 for Non-Member / Guests.
Children ages three and younger receive free admission and do not need a ticket. Tickets will be available at the Autism Society table the day of the event at the entrance when the gates open at 7:00 PM
This is NOT a Sensory Friendly Event.  Audio will be VERY loud in the stadium seating bowl and concourses. For the best viewing experience, seating on the field is STRONGLY recommended. Blankets and lawn chairs are encouraged.
Parking & Entry:
There is ample free street parking in the vicinity of UPMC Park. Nearby private lots and garages are also available but may be subject to fees.
Admission will be through the main entry gate (Gate 1) at E. 9th Street. The nearest cross street is French Street.
Other Food & Beverage:
No outside food or beverage is allowed.
The Grub & Grog concession stand on the first base concourse will be open until one hour after showtime serving Smith's hot dogs, popcorn, candy, and bottled beverages.
Cash and credit cards will be accepted for payment.
Stadium Policies:
Blankets and lawn chairs are permitted and recommended.
Tents, rolling carts, and bug spray are not permitted on the playing field. Insect repellent may be worn if applied before entering the playing field.
UPMC Park is a non-smoking facility.
The restrooms behind Section 108 will be available for use. No other restrooms will be open
Guests must comply with all state and local restrictions pertain to COVID-19.
Guests assume all personal liability for attending the event..In the event of inclement weather, small pop-up tents may be brought and used in the rear of the field seating area (near the infield or in left field; stakes are not permitted). Umbrellas and ponchos will be available to purchase at the SeaWolves Team Store.
Cancellation/Refunds: Cancellations made 7 days or more in advance of the Family Sensory & Social event date, will receive a full refund minus the fees.   We are unable to make any refunds after the 7-day period. Thank you for your understanding.
Request A Parent Resource Kit