Scallywags Pirate Family Fun Cruise-CANCELLED
Event
Sunday, September 13, 2020
10:30 am – 3:00 pm (3 boats)
Scallywags – 2 State St, Erie, PA 16507
AS NWPA Members: $5.00 | Nonmembers/guests: $11.00
Family Sensory & Social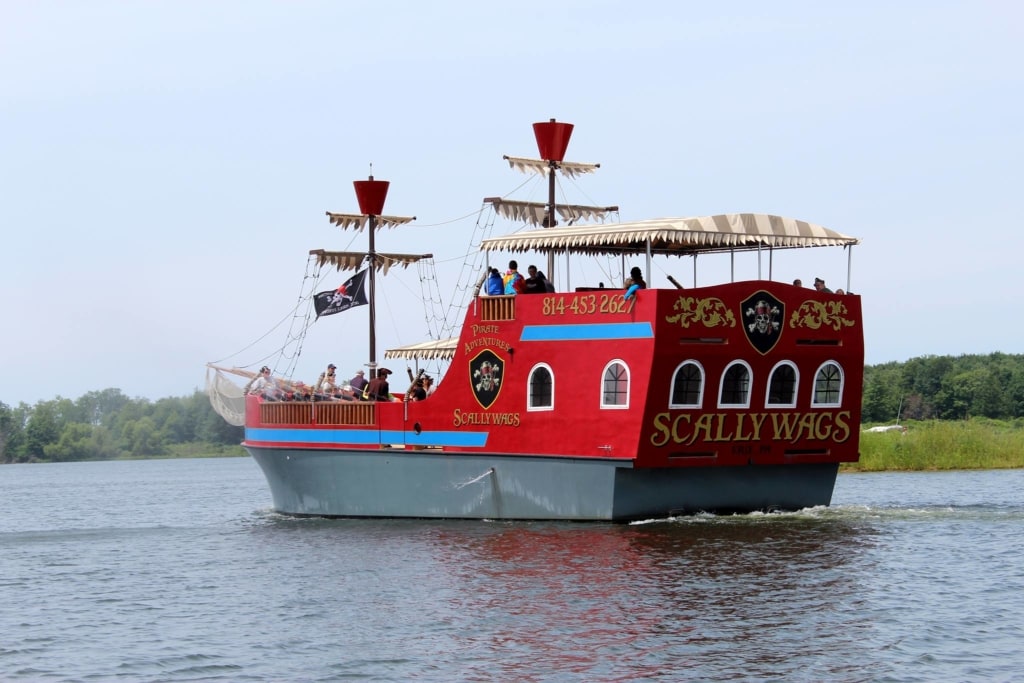 Join the crew of Scallywags for a fun family adventure. Your adventure begins with dressing as a pirate, hoisting the colors, tattoo and face painting.
Once underway, our pirate crew will teach you how to talk, sing and dance like a pirate. They will share the tales of Lake Erie and explain how the evil pirate Peg Legged Pete stole a chest of this fortune. The crew of Scallywags has been searching for Peg Legged Pete to reclaim the lost booty. If you are prepared, we can find him and get the treasure back on board. All guest pirates aboard "Scallywags" that assist with capturing the treasure will share in the booty, so keep your eyes open and be on the lookout for enemy pirates.
Scallywags' 16 water cannons are ready to fire when we enter battle during our journey. We will explore a couple of pirate hangouts, along the way, so be prepared! All crew and pirates should stand ready for battle. Prepare yourselves for thrills, music, and treasure Aarrgghh.
We are offering 3 cruise times. Limited seating
Cruise Times:
10:30am to 12:00pm | Check-in at 10:15am | boat leaves the dock promptly at 10:30am
12:30pm to 2:00pm | Check-in at 12:15pm | boat leaves the dock promptly at 12:30pm
3:00pm to 4:30pm | Check-in at 2:45pm | boat leaves the dock promptly at 3:00pm
What to Bring
As with any outdoor activity, you should bring your sunscreen
A camera to take some great pictures
A hat and sunglasses
Sweatshirt or Light Jacket, lake winds can be chilly!
*Motion Sickness Pills (take before boarding)
Children and Teens must be accompanied by a parent or other responsible adult, and all encouraged to join in the fun.
There is a full bar and snacks available for purchase on the Ship.
---
Cancellation/Refunds:  Cancellations made 7 days or more in advance of the Family Sensory & Social event date, will receive a full refund minus the fees.   We are unable to make any refunds after the 7-day period. Thank you for your understanding.
Request A Parent Resource Kit